The smell of your restaurant, office, meeting room and restroom have a lasting impression on your guests, impacting their decision on a future return visit. Selecting the right odor control products is key. With many scents and types of products, MySupply offers an odor control solution for any size room; but how do you know which products are the right match for the space?
First, let's consider restrooms and start with the size of your restroom. If your restroom is smaller than 300 ft2, the Fresh Products Eco Air™ mounted by the door will provide enough coverage. This product works as a passive air freshener and the wind created by opening and closing of doors helps to disperse the scent. Any restroom larger than 300 ft2 will benefit from multiple passive units; use a combination of the Eco Air with the Fresh Products Curve™. The Curve can be clipped to trash cans or inside stalls.
For stronger odor control or when there is a lack of airflow, use a fan powered air freshener, like the Fresh Products myfresh, in place of the Eco Air to ensure adequate coverage.
Next, place a Fresh Products Eco Bowl Clip on each toilet, and a urinal screen in every urinal. Ensure the scents match or mix and match to create your own custom scent.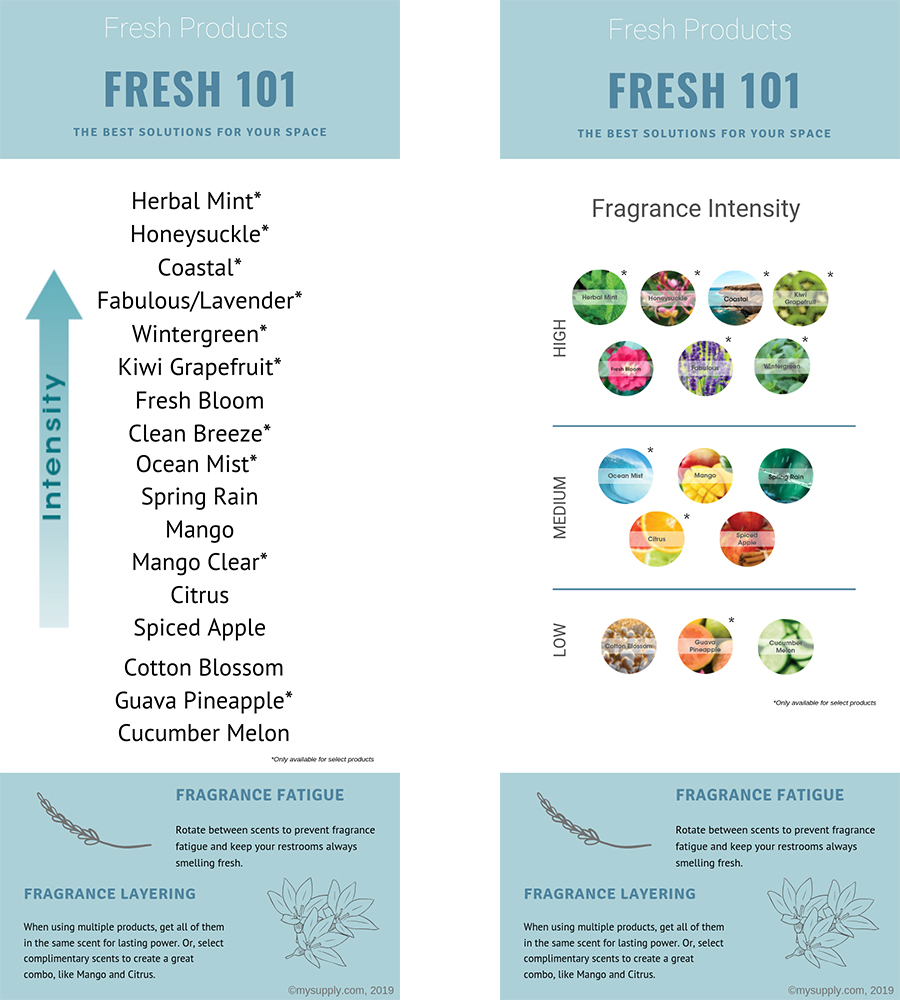 Selecting between the Tidal Wave or Wave 3D urinal screens?
When it comes to facilities with high traffic, the Fresh Products Tidal Wave™ urinal screens will be the better choice to help reduce the number of change outs. For low traffic restrooms, select Wave 3D™ urinal deodorizers.
Placing a urinal screen in each urinal will help reduce splash back and give your restroom a fresh, clean smell. Add a urinal mat to prevent damage to floors, tracking of urine, and provide an additional odor absorbent for any possible urine splash, reducing the labor requirements of your cleaning staff.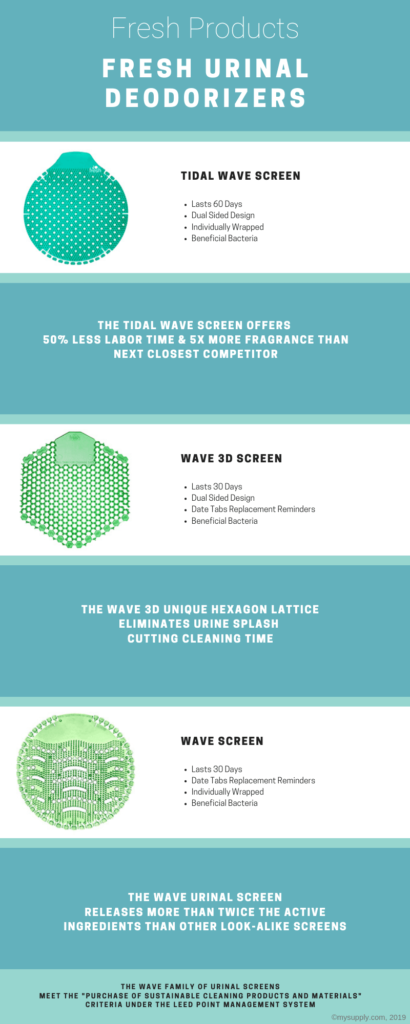 Finally, choose your scent.
For smaller restrooms, select from a lower intensity fragrance like Cucumber Melon to prevent overpowering a small space. Larger areas will benefit more from a higher intensity fragrance, such as Coastal or Kiwi Grapefruit.
Reduce fragrance fatigue by rotating between at least two different scents every 30 days. MySupply offers a subscription option when ordering your odor control products to ensure you always have a 30-day rotation on hand. When the new package arrives, it is time to change your scent control products.
No matter the size of your establishment's restroom, we have a commercial bathroom deodorizer to help with all your odor control needs. Reach out to one of our customer service reps today if you have any questions.